Skyhoundz Competition Titling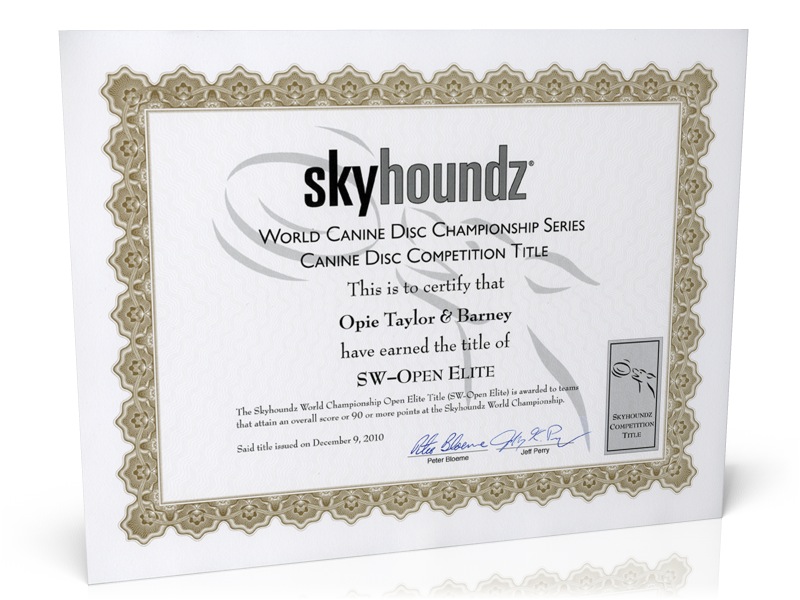 In addition to the normal awards given at Skyhoundz Canine Disc Competitions, competitors can now earn a variety of competition titles. Effective immediately (see below for info. on nostalgia titling), the Hyperflite Skyhoundz Canine Disc Competition Series will now offer Skyhoundz Competition Titling at all Skyhoundz events including Local Championships, State Championships, DiscDogathon Qualifiers, DiscDogathon World Championship, Xtreme Distance Qualifiers, Xtreme Distance World Championship, Regional Qualifiers, Open Qualifiers, International Qualifiers, the European Championship, and the World Championship.
Nostalgia Titling: Because Skyhoundz has maintained records going back to 2001 for its series of Qualifiers and World Championships, titling is also available for canines that competed at a Skyhoundz Qualifier or World Championship in years gone by. Check our competition results pages to see if you are eligible for a Skyhoundz Qualifier or World Championship Competition Title.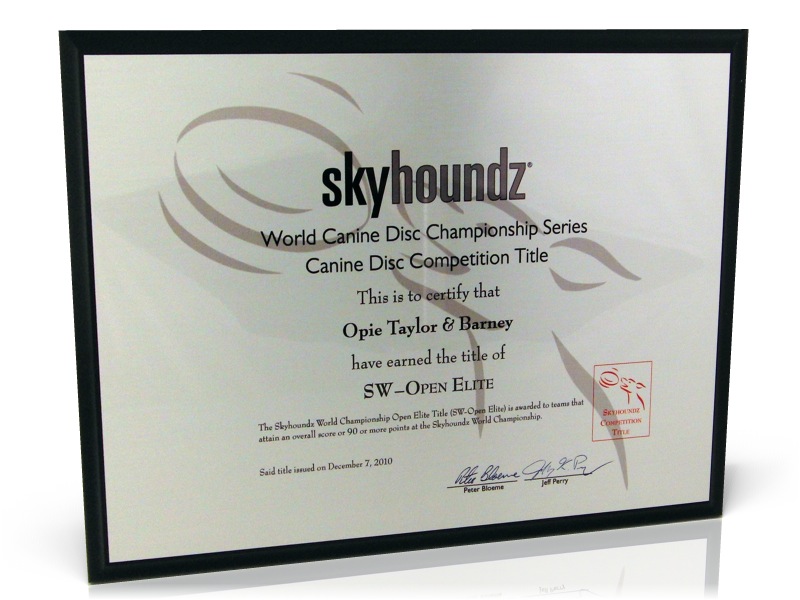 If, after competing in a Skyhoundz event, you achieve a qualifying score, or qualifying competition placement, for one of nearly 150 available titles, you merely send in your competition scoresheet, or order online (depending on the title you are elgibile for), pay the nominal titling fee, and Skyhoundz will send you a Skyhoundz Canine Disc Competition Title Certificate suitable for framing. Your name and the name of the titled canine will be entered into our online registry in the appropriate titling class. If you want to memorialize your accomplishment for your trophy case, Skyhoundz can turn your title into a beautiful wall plaque which will look great alongside your other trophies, ribbons, and medals.
Skyhoundz Titling Fact Sheet
Skyhoundz Competition Titles are a great way to introduce lovers of other canine titling sports like Agility, Flyball, and Dock Diving, to canine disc play and competition.
Skyhoundz Competiton Titles are optional. Those who elect not to participate in the titling program won't even notice it.
Prequalification is not required for any Skyhoundz title. If you wish to leapfrog past Basic titles and go straight to Advanced, Expert, or Elite title classes, you can do so in your discretion.
Any canine/human team may earn a Skyhoundz title at any Skyhoundz canine disc competition. A canine may also earn the same title with more than one human teammate.
All proceeds from the Skyhoundz titling program support the Skyhoundz Canine Disc Championship Series, thereby ensuring that a new generation of canine disc enthusiasts will be able to enjoy the world's favorite canine sport.