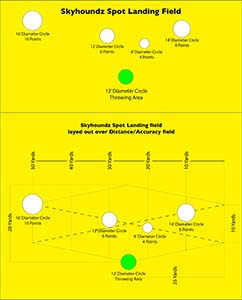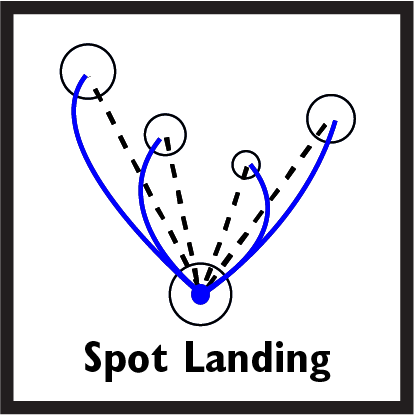 Spot Landing
Spot Landing is one of the events in the Hyperflite Skyhoundz DiscDogathon Championships (DiscDogathon Qualifiers, DiscDogathon International Qualifiers, DiscDogathon European Championship, and the DiscDogathon World Championship).
Spot Landing challenges competitors to complete as many catches as possible in the designated scoring zones within the time allotted.
Haga clic en la imagen de la derecha para verla más grande.
To give you an idea of what Skyhoundz DiscDogathon Spot Landing looks like, here is a video of Dean Werts and Player at Academy Dog Sports in Alpharetta, Georgia.
Discos
Skyhoundz ha seleccionado los discos voladores Hyperflite como los discos voladores oficiales de la Serie de Campeonato Mundial de Discos Caninos Skyhoundz. Como tal, en todas las competiciones de Skyhoundz (incluyendo, pero no limitándose a, Campeonatos Locales, Campeonatos Estatales, Calificaciones de DiscDogathon, Calificaciones de Skyhoundz Classic, Calificaciones de Xtreme Distance, Campeonato Mundial de DiscDogathon, Campeonato Mundial de Skyhoundz Classic y Campeonato Mundial de Xtreme Distance), los competidores deben usar discos Hyperflite.
Los competidores de la División MicroDog deben usar discos Hyperflite Competition Standard Pup, FrostBite Pup, SofFlite Pup, Jawz Pup, Jawz HyperFlex Pup, o Jawz X-Comp Pup.
Field Setup
Scoring zones and field dimensions are depicted in the graphics above (click to enlarge). The Spot Landing field was designed so that it is easily reproducible and consistently set-up from DiscDogathon to DiscDogathon. The X-pattern on the lower diagram represents tape measure(s) or string(s) used to help locate the "vector points" upon which the scoring zones are centered.
Para ver un vídeo de cómo montar un Skyhoundz Court completo (Tiro al Blanco, Distancia/Actitud y Aterrizaje en el punto de mira), vaya aquí. here.
Puntuación
Competitors are required to make one attempt in each scoring zone (progressing from lower to higher value scoring zones) and may then attempt to score in the zones of their choice for the remaining time allotted.
If, in the sole determination of the scoring official, a competitor has not made a reasonable attempt at a scoring zone, he/she will instruct the competitor to try again at that scoring zone.
Competitors are rewarded with the published point values for catches in which the canine lands with all paws inside a scoring zone. Catches landing outside scoring zones are worth one point each "canine effort point(s)," however, the thrower must make a reasonable attempt, in the eyes of the judge, to reach the scoring areas to earn the "canine effort point(s)."
Tie-Breaker
If there is a tie for first, second, or third place, the tie will be broken by the following criteria, as necessary: 1) The team with the fewest total throws, 2) A Face-off round with each team receiving 30 seconds in which to score as many points as they can. The Spot Landing target order/scoring will be the same as usual. The dog scoring the most points will be declared the victor. If the teams are still tied after the 30 second playoff, the playoff will continue until one team outscores the other. Officials will permit the competitors to rest their dogs as necessary.
Tiempo
Los competidores reciben un minuto para anotar tantos puntos como puedan.
The thrower and canine are required to be in the throwing circle before time starts. The line judge will ask the competitor, "Ready?" When the competitor responds yes, the line judge will raise his/her arm. The announcer will then say, "Go!" and the time will begin. If, in the opinion of the line judge, the dog leaves before time begins, the line judge will signal to the announcer, time will be reset to zero, and a restart will be initiated. Competitors may send their canines downfield, or throw, anytime after the start signal is sounded.
La cuenta atrás del tiempo restante será uniforme para todos los competidores: "30 segundos, 10 segundos, 5 , 4 , 3 , 2 , 1, tiempo!"
Haga clic aquí para una descarga gratuita de nuestro temporizador de cuenta atrás de 60 segundos. here for a free download of our 60 second countdown timer.
Si quieres oír el temporizador de la cuenta atrás, haz clic en el botón de reproducción de abajo.