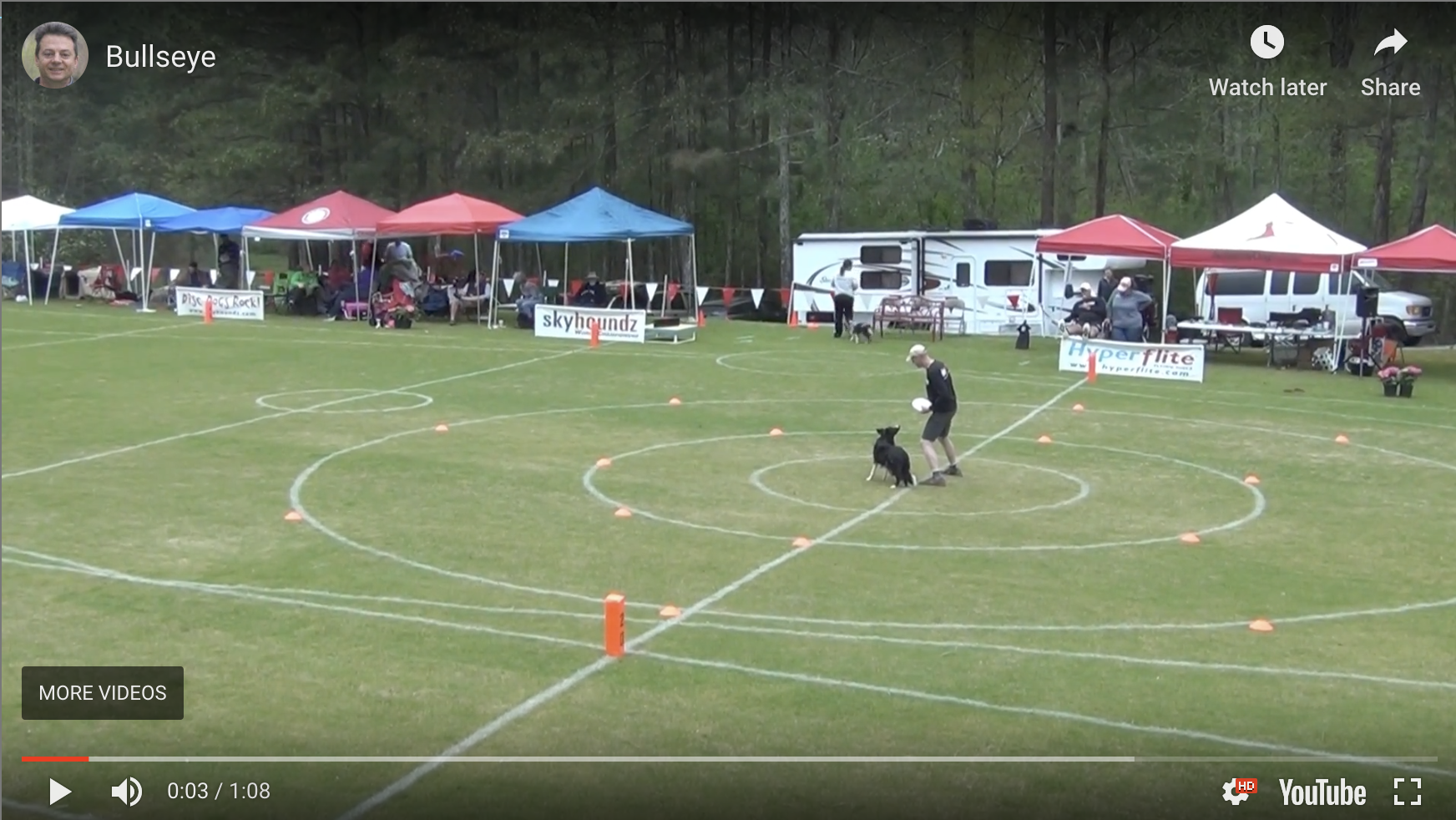 Dean Werts and Player at Academy Dog Sports in Alpharetta, Georgia.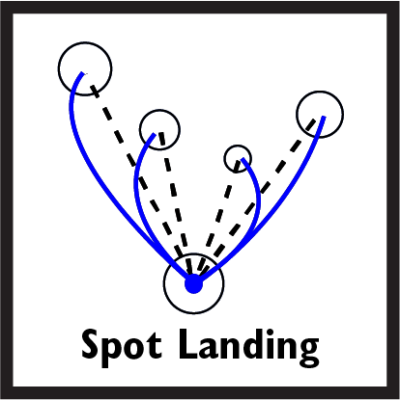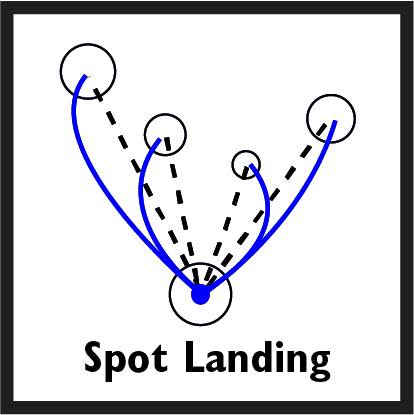 Spot Landing challenges competitors to complete as many catches as possible in the designated scoring zones within the time allotted. Spot Landing is one of the events in the DiscDogathon Championships (DiscDogathon Qualifiers, DiscDogathon International Qualifiers, DiscDogathon European Championship, and the DiscDogathon World Championship).
Competitors are required to make one attempt in each scoring zone (progressing from lower to higher value scoring zones) and may then attempt to score in the zones of their choice for the remaining time allotted.
If, in the sole determination of the scoring official, a competitor has not made a reasonable attempt at a scoring zone, he/she will instruct the competitor to try again at that scoring zone.
Competitors are rewarded with the published point values for catches in which the canine lands with all paws inside a scoring zone. Catches landing outside scoring zones are worth one point each "canine effort point(s)," however, the thrower must make a reasonable attempt, in the eyes of the judge, to reach the scoring areas to earn the "canine effort point(s)."
Spot Landing teams may use one disc to compete in Spot Landing.
 
Skyhoundz has selected Hyperflite flying discs as the official flying discs of Skyhoundz World Canine Disc Championship Series. As such, at all Skyhoundz competitions (including, but not limited to, Local Championships, State Championships, DiscDogathon Qualifiers, Skyhoundz Classic Qualifiers, Xtreme Distance Qualifiers, DiscDogathon World Championship, Skyhoundz Classic World Championship, and Xtreme Distance World Championship), competitors are required to use Hyperflite discs.
 
MicroDog Division competitors must use Hyperflite Competition Standard Pup discs, FrostBite Pup discs, SofFlite Pup discs, Jawz Pup discs, Jawz HyperFlex Pup discs, or Jawz X-Comp Pup discs.
Los competidores reciben un minuto para anotar tantos puntos como puedan.
El lanzador y el canino deben estar en el círculo de lanzamiento antes de que empiece el tiempo. El juez de línea le preguntará al competidor: "¿Listo?" Cuando el competidor responda que sí, el juez de línea levantará su brazo. El anunciador dirá entonces, "¡Adelante!" y comenzará el tiempo. Si, en opinión del juez de línea, el perro se va antes de que empiece el tiempo, el juez de línea señalará al locutor, el tiempo se pondrá a cero, y se iniciará un reinicio. Los competidores pueden enviar sus canes al campo de juego, o lanzarlos, en cualquier momento después de que la señal de salida se haya hecho sonar.
La cuenta atrás del tiempo restante será uniforme para todos los competidores: "30 segundos, 10 segundos, 5, 4, 3, 2, 1, tiempo!"
Haga clic en aquí para una descarga gratuita de nuestro temporizador de cuenta atrás de 60 segundos.
Si quieres oír el temporizador de la cuenta atrás, haz clic en el botón de reproducción de abajo.
Si hay un empate para el primer, segundo o tercer lugar, el empate se romperá según los siguientes criterios, según sea necesario:
1) El equipo con el menor número total de lanzamientos.
2) A Face-off round with each team receiving 30 seconds in which to score as many points as they can. The Spot Landing target order/scoring will be the same as usual. The dog scoring the most points will be declared the victor.
3) Si los equipos siguen empatados después de los 30 segundos de desempate, el desempate continuará hasta que un equipo supere al otro. Los oficiales permitirán a los competidores descansar a sus perros según sea necesario.
An open, flat grassy area free of obstacles as depicted in the graphics here. The Spot Landing field was designed so that it is easily reproducible and consistently set-up from DiscDogathon to DiscDogathon.
Gracias a Rick Nielson por su minucioso video tutorial sobre cómo configurar con precisión un completo Skyhoundz Court (Tiro al Blanco, Distancia/Actitud y Aterrizaje en el punto de mira).