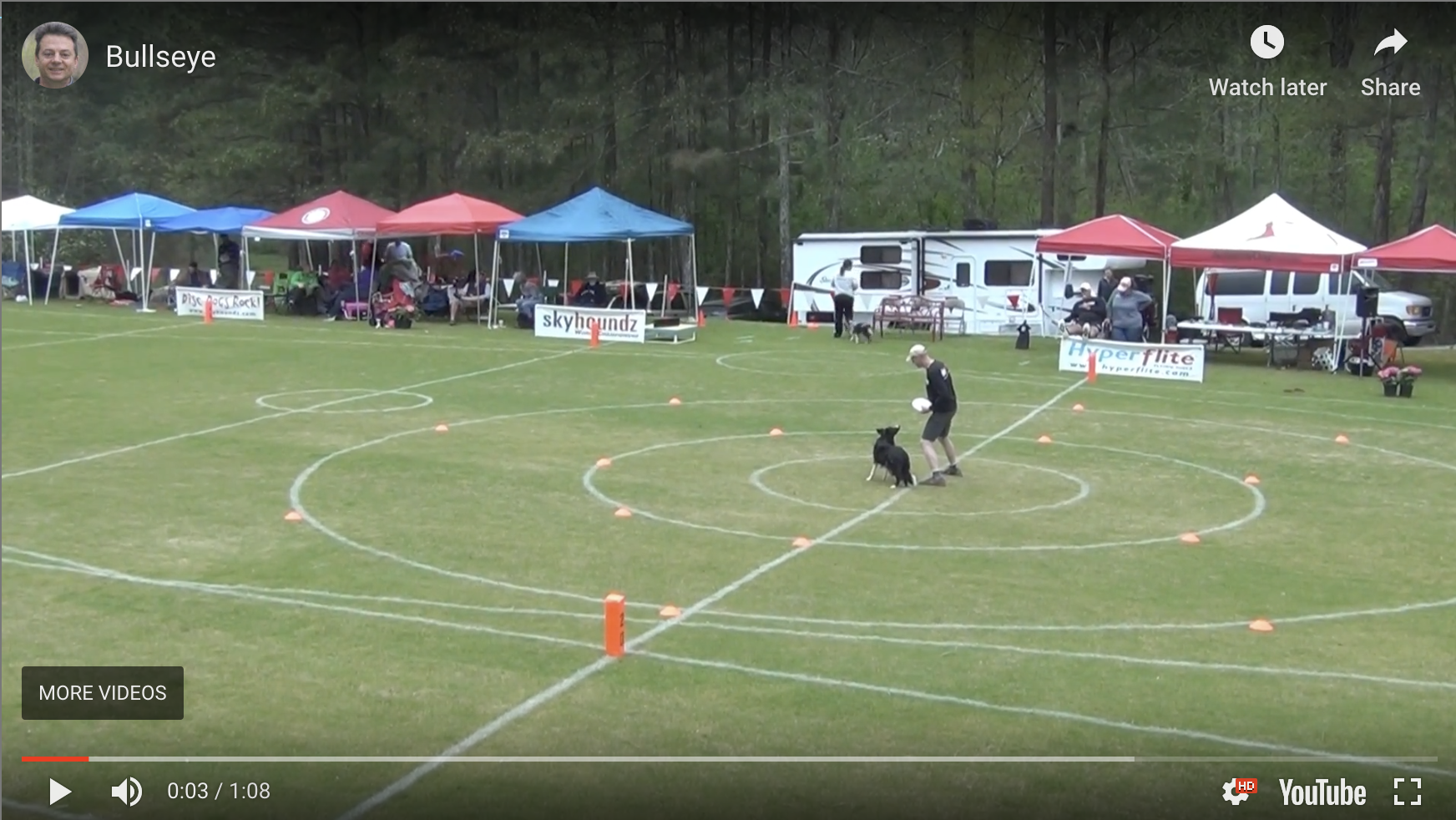 Rick Nielson y Jessie en Academy Dog Sports en Alpharetta, Georgia.
Bullseye is one of the events in the DiscDogathon Championships (DiscDogathon Qualifiers, DiscDogathon International Qualifiers, DiscDogathon European Championship, and the DiscDogathon World Championship).
Bullseye es una derivación rápida y actualizada del formato original de distancia circular de disco canino.
Para empezar, el lanzador y el canino deben estar dentro del círculo de lanzamiento. Una vez que el tiempo comienza, el lanzador y el canino pueden moverse libremente por el campo para atrapar y/o recuperar los discos. Todos los lanzamientos deben hacerse desde dentro del círculo de lanzamiento.
Las zonas de puntuación y las dimensiones del campo se representan en los gráficos relacionados (yardas / metros).
Las capturas realizadas entre los anillos de 4 yardas y 7,5 yardas valen un punto en el suelo y dos puntos con todas las patas fuera del suelo. Las capturas realizadas fuera del anillo de 7,5 yardas valen tres puntos en el suelo y cuatro puntos con todas las patas fuera del suelo.
Bullseye teams may use two discs to complete throws in any direction.
Skyhoundz ha seleccionado los discos voladores Hyperflite como los discos voladores oficiales de la Serie de Campeonato Mundial de Discos Caninos Skyhoundz. Como tal, en todas las competiciones de Skyhoundz (incluyendo, pero no limitándose a, Campeonatos Locales, Campeonatos Estatales, Calificaciones de DiscDogathon, Calificaciones de Skyhoundz Classic, Calificaciones de Xtreme Distance, Campeonato Mundial de DiscDogathon, Campeonato Mundial de Skyhoundz Classic y Campeonato Mundial de Xtreme Distance), los competidores deben usar discos Hyperflite.
Los competidores de la División MicroDog deben usar discos Hyperflite Competition Standard Pup, FrostBite Pup, SofFlite Pup, Jawz Pup, Jawz HyperFlex Pup, o Jawz X-Comp Pup.
Los competidores reciben un minuto para anotar tantos puntos como puedan.
El lanzador y el canino deben estar en el círculo de lanzamiento antes de que empiece el tiempo. El juez de línea le preguntará al competidor: "¿Listo?" Cuando el competidor responda que sí, el juez de línea levantará su brazo. El anunciador dirá entonces, "¡Adelante!" y comenzará el tiempo. Si, en opinión del juez de línea, el perro se va antes de que empiece el tiempo, el juez de línea señalará al locutor, el tiempo se pondrá a cero, y se iniciará un reinicio. Los competidores pueden enviar sus canes al campo de juego, o lanzarlos, en cualquier momento después de que la señal de salida se haya hecho sonar.
La cuenta atrás del tiempo restante será uniforme para todos los competidores: "30 segundos, 10 segundos, 5, 4, 3, 2, 1, tiempo!"
Haga clic en aquí para una descarga gratuita de nuestro temporizador de cuenta atrás de 60 segundos.
Si quieres oír el temporizador de la cuenta atrás, haz clic en el botón de reproducción de abajo.
Si hay un empate para el primer, segundo o tercer lugar, el empate se romperá según los siguientes criterios, según sea necesario:
1) El equipo con el menor número total de lanzamientos.
2) Una ronda de enfrentamientos en la que cada equipo recibirá 30 segundos para anotar tantos puntos como puedan. El perro que anote más puntos será declarado vencedor.
3) Si los equipos siguen empatados después de los 30 segundos de desempate, el desempate continuará hasta que un equipo supere al otro. Los oficiales permitirán a los competidores descansar a sus perros según sea necesario.
Un área abierta, plana, herbosa y libre de obstáculos con círculos concéntricos de 4, 8 y 15 yardas (3,7, 7,3 y 13,7 metros) de diámetro. (Nota: Para la disposición del campo, el gráfico de arriba muestra radios de 2, 4 y 7,5 yardas (1,8, 3,7 y 6,9 metros).
Gracias a Rick Nielson por su minucioso video tutorial sobre cómo configurar con precisión un completo Skyhoundz Court (Tiro al Blanco, Distancia/Actitud y Aterrizaje en el punto de mira).