Last Chance Qualifier / World Championship Quick Links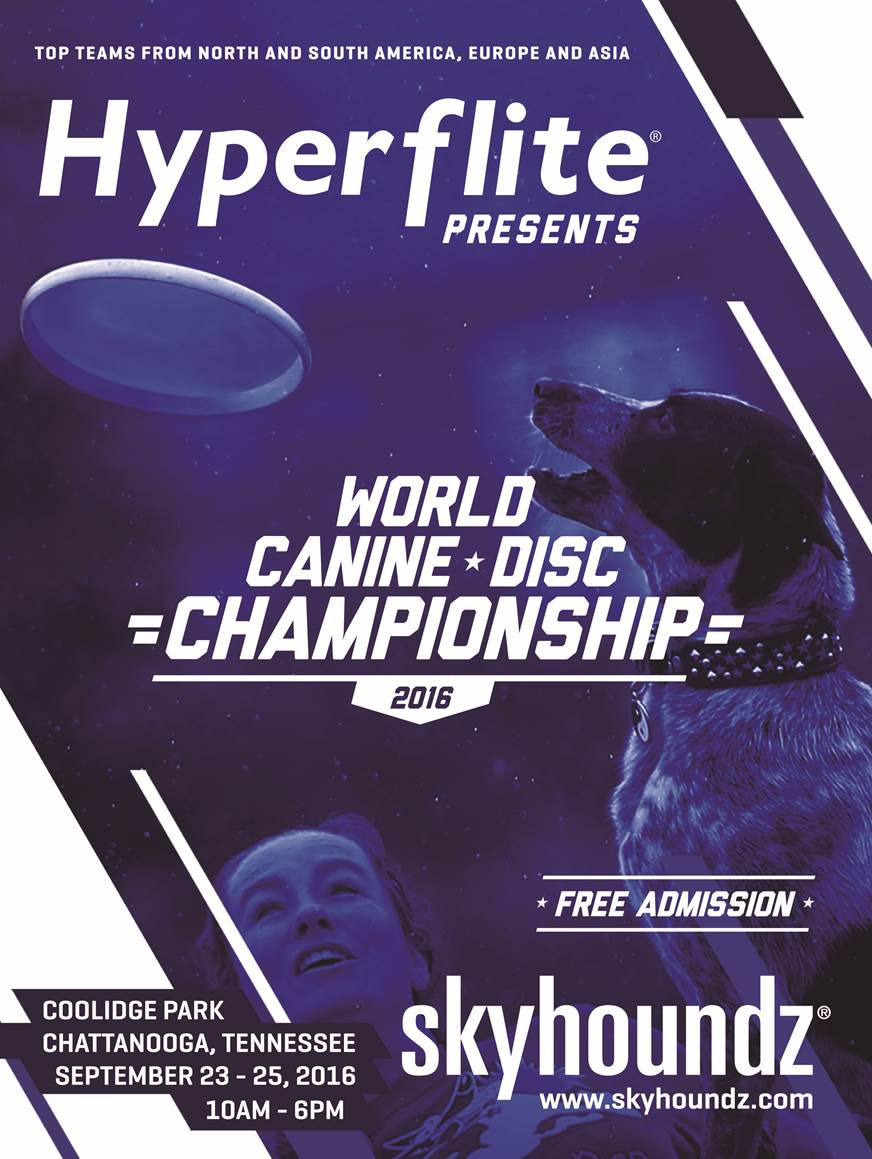 Skyhoundz DiscDogathon World Championship Registration (Required)
Congratulations on your achievement in becoming a 2016 Skyhoundz World Finalist! We, at Skyhoundz, are looking forward to seeing you in Chattanooga, Tennessee, for the world's premier canine disc event — the Hyperflite Skyhoundz Xtreme Distance World Canine Disc Championship, September 21, 2016 at Camp Jordan.
Registration for the Skyhoundz Xtreme Distance World Championship is limited to competitors who have Qualified at a Skyhoundz Qualifier. If you are planning to attend the 2016 Hyperflite Skyhoundz Xtreme Distance World Canine Disc Championship, please take a moment to complete the form that appears below. Registrations will be accepted up to 11:59 pm EST on Wednesday, September 14. Please Note: Competitor Kits (T-shirts, discs, gear, etc.) will only be provided to those who attend and compete.
Competitors are encouraged to sign up for Skyhoundz twitter updates (weather, schedule, etc.). Important competition information may need to be disseminated rapidly and this is the best available method at present. Sign up at the address here.
In addition to the rules and regulations as stated throughout our website (i.e. Sportsmanship, Music, Event Rules, etc.), please note the following items which may pertain to you:
On the day of competition, competitors must wear Hyperflite Skyhoundz Qualifier or World Championship T-shirts and apparel, as is, without alteration, at all times when on the playing field, warm-up areas or in competitor tents. We will be filming on the field as well as conducting off-field interviews during the Qualifiers and World Championships and we will only be able to use video and images featuring our logos. So please make sure that you wear Hyperflite Skyhoundz apparel. You may wear appropriate non-logoed (manufacturer's logo OK) athletic pants, shorts and shoes of your choosing. No props of any kind, including capes, vests or other adornments worn by canines, are permitted in competition. Non-sponsor branded bandannas will be permitted, subject to chief judge's approval.
Hyperflite Flying Discs are the official discs of the Hyperflite Skyhoundz World Canine Disc Championship. As such, all discs used in Skyhoundz competitions must be genuine Hyperflite brand discs. See individual event rules for further disc specifics.
As Hyperflite is the official sponsor of the Skyhoundz World Canine Disc Championship, no competing logos may be visible around the field. If you have a disc logoed tent, banner, etc. the logo must be covered up and not be visible.
The first round order of competition will be determined according to each competitor's order of finish in his or her respective Qualifier. For example, 3rd place finishers will compete first followed in order by 2nd place finishers and 1st place finishers. All subsequent rounds will be run in reverse order of current standing.
The Sport Division and MicroDog Sport Division World Championship format will consist of two rounds of Distance/Accuracy (weather permitting) with a final cut that will send the top 10 teams in each World Championship Division (determined by cumulative scores from rounds one and two) to a third and final round of Distance/Accuracy. Scoring will be cumulative.
If you are flying with your dog, you will need to provide your airline with a canine health certificate at check-in. Be sure to bring an airline-approved kennel for your canine. If you have questions or concerns about air travel, feel free to call us and we will try to assist in any way we can.
For those of you who have chosen to drive, there is plenty of parking available at both Camp Jordan and Coolidge Park.
If you would like to bring a pop-up type tent, please feel free to do so. In fact, if you have an extra, please bring it for those competitors who may be traveling without one. You may use normal sized tent stakes at Camp Jordan and at Coolidge Park. There will not be overnight security at Camp Jordan while there will be overnight security at Coolidge Park. Competitors may choose to leave their tents set up overnight, however, if you choose to do so, please understand that you assume the risk of damage or theft with respect to property that you leave unattended.
For those staying in hotels, please keep your dog from barking and damaging any property. The hotel will expect you to be personally responsible for any damage that occurs. We recommend that you put the Do Not Disturb sign on your door at all times while your dog is in your room to minimize any chance of an unplanned escape or encounter with hotel staff.
Please be considerate of other guests and keep your dog on a short leash while in the hotel. Be careful not to block entrances and elevators. Do not let your dog off-leash while inside the hotel corridors, lobby, elevators, etc. Please clean up any of your dog's nature breaks promptly and dispose of them in trash receptacles.
Again, congratulations on your achievement and we look forward to seeing you and your canine companion soon. Fly High and Bite Hard!