Peter Bloeme Hyperflite co-founder, Peter Bloeme is director of the Skyhoundz Championships. In this role, he manages more than 100 Local Championships, 18 U.S. and International Qualifiers, a European Championship, and the World Championship. Bloeme's career of tossing, skipping, bouncing, spinning, and twirling a plastic disc began when he finished third overall and first in…
Read More →
The latest Hyperflite innovation, known as X-Flash™ technology, was the product of several years of hard work and experimentation. But, it might not have happened at all were it not for a happy coincidence. In essence, the discovery of the "sunflash" phenomenon (more about that later), which ultimately resulted in the development of X-Flash™ technology,…
Read More →
Myth 1: Food treats are the only way to teach a dog to play with the disc. Truth: Food treats are almost never used to teach a canine to catch and retrieve a flying disc. The only reward your dog will need…is another throw from you! Myth 2: Flying discs are expensive and don't last long. Truth: In the…
Read More →
"Butterlips," "The Drops," "In-and-Out Syndrome," "Brick Jaws," "Rejectus Mouthus," whatever you may call it, missed discs are the scourge of disc dog enthusiasts. For many disc doggers, the onset of "The Drops" is gradual, while for others, it may seem to happen overnight. Most canine disc enthusiasts experience it at some point in the lives…
Read More →
What in heck is a Thundershirt? No, it's not the preferred garment of the latest cinema superhero, or a body builder's lifting uniform. What it is might surprise you…especially if you have a dog that is terrified of thunderstorms, fireworks, and other loud noises. In fact, if the Thundershirt performs as advertised, it might just…
Read More →
Now is the winter of our discontent — surely Shakespeare must have been a disc dogger. The approach of cold weather is a sad thing indeed for those who desire to bond with their canines via a well-thrown flying disc. You may think that it's pretty much the same with all disc sports, but disc…
Read More →
Think your dog is a great Frisbee catcher? There is only a small chance that you are right…and it has nothing to do with his catching ability. Look down at that flying disc that Fido has in his mouth. You may call it a Frisbee, but, more likely than not, it isn't. If it says…
Read More →
An excerpt from Disc Dogs! The Complete Guide by Peter Bloeme and Jeff Perry, Co-founders of Hyperflite, Inc. Getting started in canine disc sports means finding the perfect dog. If you already have a dog, then congratulations are in order. Your family pet is a perfect companion for canine disc play. That may seem like…
Read More →
Dog owners around the world are experiencing a global Pawdemic and it's called the Dog Flew. No canine is immune from infection with this bug. Symptoms of the Dog Flew include, a pronounced ability to fly (caninus aerialis); a crazed look of delight (discus berzerkus); a lack of interest in normal canine toys (plasticus exclusivus);…
Read More →
A national pastime is a sport or game that is considered to be an intrinsic part of the culture of a nation — so says that vast storehouse of collective knowledge called Wikipedia. Almost every country has a national pastime even if they don't always officially declare one. Not surprisingly, in Norway, where there's snow aplenty, the…
Read More →
Press Releases
Peter Bloeme Hyperflite co-founder, Peter Bloeme is director of the Skyhoundz Championships. In this role, he manages more than 100 Local Championships, 18 U.S. and International Qualifiers, a European Championship, and the World Championship. Bloeme's career of tossing, skipping, bouncing, spinning, and twirling a plastic disc began when he finished third overall and first in…
Read More →
The latest Hyperflite innovation, known as X-Flash™ technology, was the product of several years of hard work and experimentation. But, it might not have happened at all were it not for a happy coincidence. In essence, the discovery of the "sunflash" phenomenon (more about that later), which ultimately resulted in the development of X-Flash™ technology,…
Read More →
Myth 1: Food treats are the only way to teach a dog to play with the disc. Truth: Food treats are almost never used to teach a canine to catch and retrieve a flying disc. The only reward your dog will need…is another throw from you! Myth 2: Flying discs are expensive and don't last long. Truth: In the…
Read More →
"Butterlips," "The Drops," "In-and-Out Syndrome," "Brick Jaws," "Rejectus Mouthus," whatever you may call it, missed discs are the scourge of disc dog enthusiasts. For many disc doggers, the onset of "The Drops" is gradual, while for others, it may seem to happen overnight. Most canine disc enthusiasts experience it at some point in the lives…
Read More →
What in heck is a Thundershirt? No, it's not the preferred garment of the latest cinema superhero, or a body builder's lifting uniform. What it is might surprise you…especially if you have a dog that is terrified of thunderstorms, fireworks, and other loud noises. In fact, if the Thundershirt performs as advertised, it might just…
Read More →
Now is the winter of our discontent — surely Shakespeare must have been a disc dogger. The approach of cold weather is a sad thing indeed for those who desire to bond with their canines via a well-thrown flying disc. You may think that it's pretty much the same with all disc sports, but disc…
Read More →
Think your dog is a great Frisbee catcher? There is only a small chance that you are right…and it has nothing to do with his catching ability. Look down at that flying disc that Fido has in his mouth. You may call it a Frisbee, but, more likely than not, it isn't. If it says…
Read More →
An excerpt from Disc Dogs! The Complete Guide by Peter Bloeme and Jeff Perry, Co-founders of Hyperflite, Inc. Getting started in canine disc sports means finding the perfect dog. If you already have a dog, then congratulations are in order. Your family pet is a perfect companion for canine disc play. That may seem like…
Read More →
Dog owners around the world are experiencing a global Pawdemic and it's called the Dog Flew. No canine is immune from infection with this bug. Symptoms of the Dog Flew include, a pronounced ability to fly (caninus aerialis); a crazed look of delight (discus berzerkus); a lack of interest in normal canine toys (plasticus exclusivus);…
Read More →
A national pastime is a sport or game that is considered to be an intrinsic part of the culture of a nation — so says that vast storehouse of collective knowledge called Wikipedia. Almost every country has a national pastime even if they don't always officially declare one. Not surprisingly, in Norway, where there's snow aplenty, the…
Read More →
The 2013 Hyperflite Skyhoundz World Canine Disc Championship was the largest and best-attended canine disc competition in the history of canine disc sports. Several new countries were represented at the 2013 Skyhoundz Worlds Week including, Argentina, China, and Korea. On the first day of competition, our Skyhoundz DiscDogathon and Xtreme Distance Last Chance Qualifiers together…
Read More →
With the holidays approaching fast, it's time to take some common sense precautions to make sure that all of your family members have a joyeux Noel. Thinking and Driving — With all of the hectic dashing from party-to-party and last minute shopping bacchanalia, "Rover" might just slip through the cracks. So, before you rush out…
Read More →
Hyperflite Skyhoundz Downloadable Logos



Hyperflite Logo (pdf format) / Hyperflite Logo (jpg format)

Hyperflite Flying Discs Logo (pdf format) / Hyperflite Flying Discs Logo (jpg format)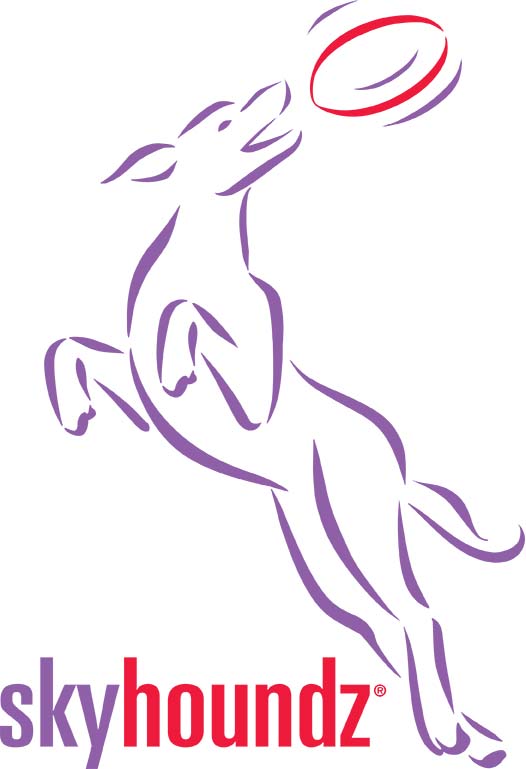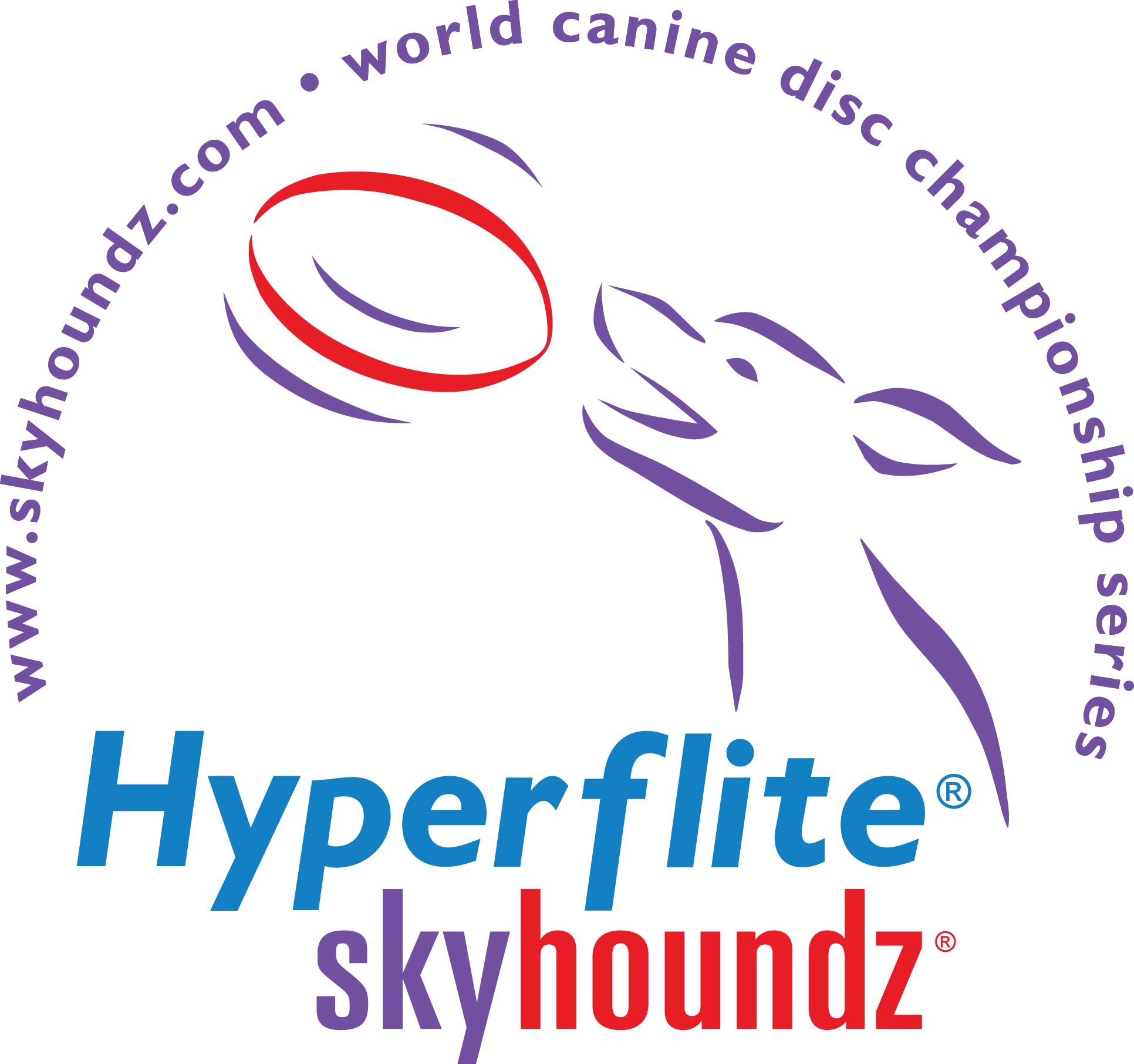 An excerpt from Disc Dogs! The Complete Guide by Peter Bloeme and Jeff Perry, Co-founders of Hyperflite, Inc. Canines were once thought to be color blind, that is, that they could see only black and white and shades of gray. Canine eyes, like human eyes, contain within their retinas, certain light sensitive cells called cones…
Read More →
by Jeff Perry Most dogs, and especially athletic canines like border collies, Australian shepherds, labs and cattle dogs, require vigorous exercise. Shortchange an energetic canine in the exercise department and you just might bid farewell to anything from sheetrock to sofas. Being highly intelligent creatures, dogs have a knack for "communicating" to you via your…
Read More →
by Jeff Perry To gain insight into the manner in which Skyhoundz judges evaluate freestyle performances at Skyhoundz Regional and World Championship events it is useful to first review the Skyhoundz Guidelines. These Guidelines set forth the core standards or "framework" that Skyhoundz judges employ to score freestyle routines and consequently compare and contrast the…
Read More →
An excerpt from Disc Dogs! The Complete Guide by Peter Bloeme and Jeff Perry, Co-founders of Hyperflite, Inc. As you begin to participate in disc sports with your canine, you will undoubtedly experience conditions in which the wind appears to change direction and velocity with rabidity and in seemingly unpredictable ways. Whether you are practicing, performing or…
Read More →
An excerpt from Disc Dogs! The Complete Guide by Peter Bloeme and Jeff Perry, Co-founders of Hyperflite, Inc. Many veterinarians recommend that you don't encourage your canine to jump until it is between 12 and 18 months of age. However, we all know that most canines will jump whether we like it or not. In fact, if…
Read More →
An excerpt from Disc Dogs! The Complete Guide by Peter Bloeme and Jeff Perry, Co-founders of Hyperflite, Inc. In a number of major cities in the United States and elsewhere in the world, our four-legged friends are caninus non gratis in parks and public green spaces. However, even in the most inhospitable environs it is possible to…
Read More →
An excerpt from Disc Dogs! The Complete Guide by Peter Bloeme and Jeff Perry, Co-founders of Hyperflite, Inc. Getting started in canine disc sports means finding the perfect dog. If you already have a dog, then congratulations are in order. Your family pet is a perfect companion for canine disc play. That may seem like a surprising…
Read More →
An excerpt from Disc Dogs! The Complete Guide by Peter Bloeme and Jeff Perry, Co-founders of Hyperflite, Inc. When you use common sense, canine disc play is exceedingly safe. Injuries of any kind are rare. When they do occur it is usually because of a mistake that we humans make. Bad throws cause canines to run into…
Read More →
An excerpt from Disc Dogs! The Complete Guide by Peter Bloeme and Jeff Perry, Co-founders of Hyperflite, Inc. Canine disc sports are a team effort. Although the focus is frequently on the canine, in order for your canine to shine on the playing field or at your local park, you must throw smoothly and accurately in a…
Read More →
An excerpt from Disc Dogs! The Complete Guide by Peter Bloeme and Jeff Perry, Co-founders of Hyperflite, Inc. No one actually knows the identity of the first person to throw a disc to a canine, but the credit for first popularizing this activity must go to Alex Stein, owner and trainer of the legendary three-time world canine…
Read More →
An excerpt from Disc Dogs! The Complete Guide by Peter Bloeme and Jeff Perry, Co-founders of Hyperflite, Inc. Polls have shown that the primary reason that people participate in canine disc competitions is because their dogs love it. Sometimes we lose sight of that simple fact as we become more experienced and more active on the competition…
Read More →
Syndicated Articles* (Free syndicated disc dog articles, and photos for canine centric websites.)
*Hyperflite Syndicated Articles
Hyperflite's experienced canine-disc experts are the world's leading authorities on all things canine-disc related. The articles below are licensed for use on canine and flying disc-sports-related websites at no charge. In addition, Hyperflite's expert authors may also be contracted with to write custom-tailored content that meets the specific needs, or style, of virtually any publication. Frequently, we can author these articles for advertising tradeouts. For more information, please e-mail jperry@hyperflite.com
Conditions of Use
You may use any Hyperflite Syndicated Article (HSA) or Hyperflite Syndicated Images (HSI) on your site for free subject to the following conditions:
You must not alter or modify an HSA or HSI unless the modified HSA or HSI is approved in writing by Hyperflite, Inc. Note: The approval process is informal and fast.
You must credit Hyperflite and the authors in the manner noted in the article(s) at the beginning and conclusion of the article(s):
The following legend must appear at the end of each article. Reprinted with permission, Hyperflite, Inc. www.hyperflite.com
You may not display an HSA or HSI on any site that also contains, pornographic, suggestive, bigoted, or hate-related material, or any other conduct deemed offensive by Hyperflite, Inc.
You will make no claims to have written or produced any HSA or HSI posted to your site and will not claim rights to it in any way. By posting an HSA or HSI you agree that the rights to the HSA and/or HSI belong to Hyperflite, Inc.
You understand that this is a free service and as such we make no claims as to non-interruption of service or reliability due to internet outages, acts of God, power failures or server crashes, etc.
All viewpoints expressed by the authors are those of the original authors and do not necessarily represent those of Hyperflite, Inc.
If you wish to discontinue syndication, you may remove any and all HSA(s) and HSI(s) from your website whenever you like.
Should Hyperflite choose, in its sole discretion, to request removal of any HSA or HSI from your website, you agree to immediately comply with such request.
These terms and conditions are subject to change. We reserve the right to alter these conditions in our sole discretion.
If you agree to the terms detailed above, and decide to utilize Hyperflite's free syndicated content on your website, please send a brief email, that includes the web address where the HSA(s) or HSI(s) will be displayed, to Jeff Perry at jperry@hyperflite.com. Please type Hyperflite Syndicated Article in the subject line of your email notification.