General Competition Rules
Each contestant must read and sign, without modification, the Hyperflite Skyhoundz Registration Form, which contains a liability waiver and publicity release. Competitors are responsible for reading and understanding the competition rules before they compete.
Because of time constraints, no practice throws will be permitted at any Hyperflite Skyhoundz events.
No props of any kind, including capes, vests, or other adornments (other than simple/basic bandanas, collars, or harnesses) worn by canines, are permitted in competition.
In addition, other than the discs permitted for the particular competitive event, toys (including but not limited to tug toys, balls, chew toys, rawhide bones, towels, etc.) are not permitted on the competition field during competition. In addition, other than the discs permitted for the particular competitive event, toys (including but not limited to tug toys, balls, chew toys, rawhide bones, towels, etc.) are not permitted on the competition field during competition. Towels are only permitted on the field, to clean discs or a thrower's hands, but may not be used during competition as tug toys/lures or otherwise waived in the air to coax or encourage a competing canine.
No food treats are permitted to be given to dogs while on the competition field. This will prevent dropped or uneaten treats from remaining on the field and distracting competing canines.
Female dogs in any stage of heat will not be permitted to compete and must not be brought to the competition site.
If a spectator's dog runs onto the field during a competitor's round, time will be suspended. Once the spectator's dog is leashed and has been removed from the field, time will resume from the point of interruption. Officials will use every effort to allow the interrupted team to be returned to their status on the field, including physical field location and time remaining, at the point of the interruption.
The judges decisions are final and are not subject to video review.
In exceptional circumstances, Organizers (after consulting with the Chief Judge) have the discretion to modify Skyhoundz rules, but only to the extent necessary to safely, efficiently, and fairly run a Skyhoundz event.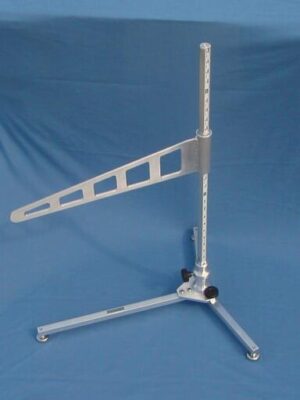 There are MicroDog Divisions in Skyhoundz Classic (MicroDog Open & MicroDog Sport), DiscDogathon (MicroDog Bullseye, MicroDog Freestyle, MicroDog Pairs Distance/Accuracy, MicroDog Spot Landing, MicroDog TimeTrial) and a MicroDog Class in Xtreme Distance.
To be eligible to compete in the MicroDog Division or Class, a dog must be less (<) than 17 inches as measured from a level table/platform to the withers, as determined by Skyhoundz officials.
MicroDog teams are required to use (any model) Hyperflite Pup discs in competition.
MicroDogs must be measured at all Skyhoundz events until they receive a permanent Skyhoundz Measurement Card (SMC).
SMCs can only be issued at a Skyhoundz Last Chance Qualifier or Skyhoundz World Championship where canines will be measured on a level table/platform using a standard American Kennel Club (AKC) measuring jig.
To be eligible to receive a SMC, a dog must be less (<) than 17 inches tall, as measured from a level table/platform to the withers, as determined by Skyhoundz officials, and over two years of age. Video of AKC jig and measuring a dog can be viewed here.
Once a dog receives a SMC, they will no longer be required to be measured to compete in any MicroDog event as long as they show their SMC at the event.
Pairs (Freestyle & Distance / Accuracy)
There is a Pairs Freestyle Division in Skyhoundz Classic and a Pairs Distance/Accuracy and MicroDog Pairs Distance/Accuracy events in DiscDogathon.
As the name implies, Pairs Freestyle or Pairs Distance/Accuracy provides the opportunity for two indivuals to compete with their dog.
There is an Open Division in Skyhoundz Classic.
The Open Division consists of Freestyle and sometimes Distance/Accuracy.
There is a Sport Division in Skyhoundz Classic.
The Sport Division consists of Distance/Accuracy.
There is a Youth Division in Skyhoundz Classic.
To be eligible to compete in the Youth Division competitors must be 15 years of age or younger as of December 31 of the year in which they are competing.
Competitors are responsible for the safety and welfare of their dogs. Competing canines must be supervised and under the care and control of their throwers/owners at all times. Only the competing dog, thrower (throwers if Pairs Distance/Accuracy or Pairs Freestyle), and contest officials are allowed on the field during competition. Dogs must be leashed at all times, except when competing.
There are presently no limitations as to the number of events you or your dog may enter, or in which divisions. However, the same thrower/dog combination may only compete once per division/class. It is the owner/trainer's responsibility to ensure that competing canines do not compete in more events than would be advisable given the prevailing weather conditions, with specific consideration given to the fitness and general health of the competing canine. At all Skyhoundz Championships, the Chief Judge will have final authority on the issue of whether a dog is fit to compete.
Abusive treatment of a canine, or any conduct of a competitor which might be perceived by spectators as such, will not be tolerated. Contest officials may disqualify any competitor who engages in this type of behavior. The wearing of electronic or chemical training aids, of any sort (active or inactive), will not be permitted during competition.
Competitors with overly aggressive dogs may not be permitted to compete if such canines are believed to pose a danger to people or other canines.
Freestyle vaults, utilizing the trainer's body as a launch pad, should be minimized or excluded from routines altogether. If attempted, vaults should be performed in a controlled and safe manner. Excessive height, or frequent repetitions of vaults, will not increase the likelihood of a higher score.
Skyhoundz has selected Hyperflite flying discs as the exclusive flying discs of the Skyhoundz World Canine Disc Championship Series.
At all Skyhoundz competitions (including, but not limited to, Local Championships, State Championships, DiscDogathon Qualifiers, Skyhoundz Classic Qualifiers, Xtreme Distance Qualifiers, DiscDogathon World Championship, Skyhoundz Classic World Championship, and Xtreme Distance World Championship), all competitors are required to use genuine Hyperflite discs. This change will ensure that the Skyhoundz Series will be around for future generations of canine disc enthusiasts to enjoy. Specific Skyhoundz disc-use rules can be found on the Event Rules tab in the Competition section of the Skyhoundz website.
For consistency in scoring, regardless of the competitive event, judges should not be substituted in the middle of a competitive round. Judges should never compete in any event/class that they are also judging even if a substitute judge is available.
Judges shall not compete in any event/class that they are also judging.
For consistency and clarity across all levels of events, the official language of Skyhoundz events is English and measurements is in yards, feet, and inches. Coming up Next. On Deck, In The Hole, Are you Ready, Go, and all countdowns should be made in English. All field measurements and markings should be in yards, feet, and inches.
Dog owners/trainers are required to clean up after their dog's nature breaks. If a "nature break" takes place during a competitive round, at any Skyhoundz competition, the timing clock will continue to run. A competitor should not interfere physically with a canine during a nature break but may call the canine in an effort to expedite the canine's return to playing status. Any clean-up necessary must be accomplished by the human team member upon completion of the round.
Where required by local ordinance, all participating dogs must have proof of Rabies inoculation and license. Parvo and Kennel Cough vaccinations are strongly recommended.
Although not every team can finish in the top positions at a Skyhoundz competition, you are all winners in the eyes of your canines. So, when you're out on the field competing, don't forget to have fun with your best friend. Skyhoundz will not tolerate displays of unsportsmanlike conduct at any level of competition in the Skyhoundz Series.
We urge you to familiarize yourself with our rules regarding unsportsmanlike behavior and understand that we will have a zero tolerance policy for unseemly displays of poor sportsmanship at our series of family-friendly competitions.
Whether or not you agree with your scores, you will be well served to treat the judges, officials, and organizers with respect and interact with them as you would want others to interact with you.
The Hyperflite Skyhoundz Championship Series represents family entertainment at its finest. Accordingly, competitors should avoid confrontations with other competitors or challenges of contest officials. Abusive language or other inappropriate or unsportsmanlike behavior may result in a contestant's disqualification from competition.
Finally, please review the section on Sportsmanship at the beginning of the Competition Section of Disc Dogs! The Complete Guide.